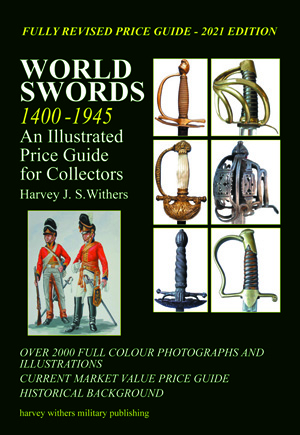 by
Harvey J S Withers
Published by Harvey Withers Military Publishing
REVISED PRICE GUIDE FOR 2021
ONLY AVAILABLE FROM www.militariahub.com
PRICE: £39.95
TO PURCHASE THIS BOOKLET PLEASE CLICK HERE
Over 2000 full colour photographs
The book contains over 2000 full colour photographs, the majority of which have never been seen in print before. Each listing includes full colour photographs, a concise description and the current market value in both $US and £Sterling.
Sample Pages below
Please take the time to look at the sample pages below – each page contains many full colour photographs, including a wealth of detailed information aimed specifically at the collector of antique military swords. The swords featured in this book are the kind of pieces that the collector will regularly encounter at Arms Shows and auctions.
An essential aid in identifying and valuing antique swords
There are also comprehensive sections detailing the historical background for particular sword types and essential tips for collecting. Categories include:
Infantry Swords
Cavalry Swords
Naval Swords
Hunting Swords
Smallswords
Japanese Swords
Care and Preservation of Antique Swords
Sword Bibliography
Foreword is by the late Professor Richard Holmes – renowned British military historian, TV presenter and author of numerous military titles.
Book length is 296 pages.
Don't miss this opportunity to acquire the most up-to-date and informative price guide for collectors of antique military swords. There has not been a comparative work produced in many years.
READ THE REVIEWS!
"This beautifully produced volume…wide-ranging and eclectic work cataloguing a large selection of swords dating from medieval times to the demise of the sword as a combat weapon…gives the generalist the knowledge and confidence to identify and know the value of any commonly encountered sword…"
Classic Arms and Militaria Magazine
"Almost 300 pages of colourful photographs and informative text…is an entry level guide which also serves as a source of reference to the more experienced collector…"
The Armourer Magazine
"I am delighted to write the Foreword…because it gives a broad introduction to the types of swords that one might might find in the marketplace…"
Professor Richard Holmes
SEE THE SAMPLE PAGES BELOW: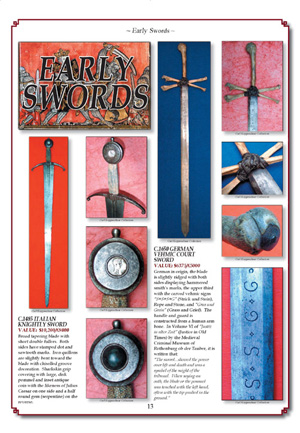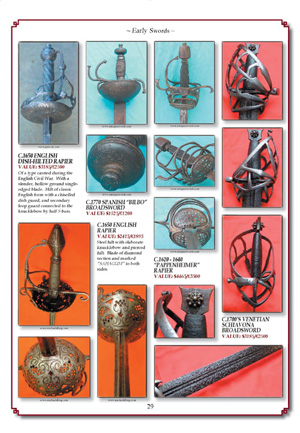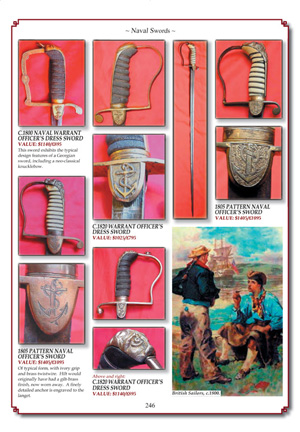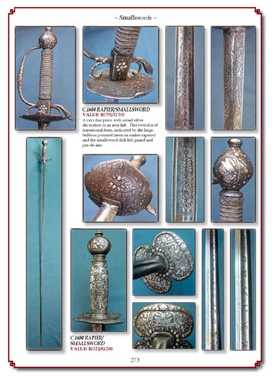 © All Images – Harvey Withers 2021