Excellent quality early 19th Century French cup-hilt rapier. With brass and steel hilt – brass twistwire to the grip. Slender, rapier-type blade and complete with brass/white metal and leather mounted scabbard. In very good condition. Blade length is 33.75 inches (42.5 inches overall).
PRICE: £445.00
FOR MORE IMAGES PLEASE CLICK HERE
GOT ANY QUESTIONS?
PLEASE FEEL FREE TO E-MAIL ME AT: [email protected]
FULL COLOUR SWORD BOOKS FOR COLLECTORS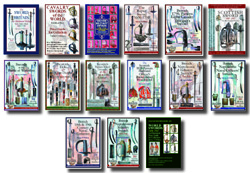 Click on image for more details.