Scarce British Boer War period 1899 Pattern Cavalry Trooper's Sword. With large sheet metal bowl guard and riveted brown leather grip. Blade fortes with numerous date and inspection stamps. Plain, slightly curved blade – has been ground to a slim point towards the end of the blade – could have been done in service as this was a very unpopular sword due to both the hilt and the blade and was superceded only nine years later with the famous 1908 Pattern. With steel scabbard (locket absent). Blade length is 31 inches (38.5 inches overall).
PRICE: £315.00
FOR MORE IMAGES PLEASE CLICK HERE
GOT ANY QUESTIONS?
PLEASE FEEL FREE TO E-MAIL ME AT: [email protected]
FULL COLOUR SWORD BOOKS FOR COLLECTORS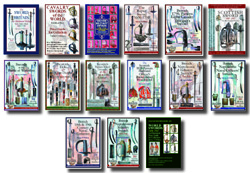 Click on image for more details.