A very interesting and important Islamic axe or polearm. With deeply inlaid brass decoration, including Islamic texts. Probably 19th Century Sudanese/Mahdist. Am not sure if this was an axe or polearm or some other kind of weapon or ceremonial piece. Is a very impressive piece in the hand and worthy of further research and serious study. Height is 20.5 inches and the width is 11 inches.
PRICE: £595.00
FOR MORE IMAGES PLEASE CLICK HERE
GOT ANY QUESTIONS?
PLEASE FEEL FREE TO E-MAIL ME AT: [email protected]
FULL COLOUR SWORD BOOKS FOR COLLECTORS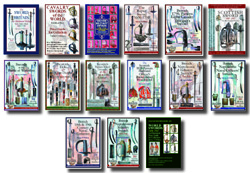 Click on image for more details.