An unusual British c.1790 Infantry Officer's Sword. Is in the style of a contemporary cavalry sword but the blade length would probably indicate use by a foot officer. With brass hilt and ribbed leather grip. Blade is engraved with the name "PULHAM" to both sides of the blade forte. The name is not known to me as sword cutler or retailer so it might be the owner of the sword. Blade is also engraved with the royal coat of arms and scrolling foliage. Complete with original brass and leather mounted scabbard. Blade length is 26 inches (31 inches overall).
PRICE: £695.00
FOR MORE IMAGES PLEASE CLICK HERE
GOT ANY QUESTIONS?
PLEASE FEEL FREE TO E-MAIL ME AT: [email protected]
FULL COLOUR SWORD BOOKS FOR COLLECTORS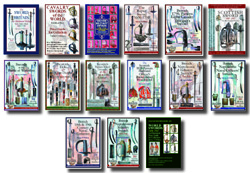 Click on image for more details.