Interesting late-19th Century English brass-hilted decorative rapier. With heavily decorated brass hilt and slender, double-edged blade. Retailer marked to E.W Dods, London at the blade forte. No scabbard. Blade length is 32.5 inches (39 inches overall). Nice display piece.
PRICE: £225.00
FOR MORE IMAGES PLEASE CLICK HERE
GOT ANY QUESTIONS?
PLEASE FEEL FREE TO E-MAIL ME AT: [email protected]
FULL COLOUR SWORD BOOKS FOR COLLECTORS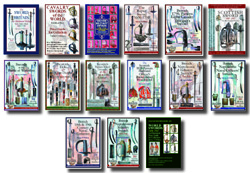 Click on image for more details.