Excellent example of a late-17th Century English hunting/naval officer's hanger. With typical staghorn grip and brass-mounted hilt featuring a decorated pommel and shellguard. The double-edged blade features a King's head stamp to each side of the blade indicating that it is likely that this blade was German (Solingen) made and imported into England where the hilt and blade would have been fitted together. The King's head stamp was used by the famous Wundes German sword making family and this blade is likely to be one of theirs. In very good condition for its age – both hilt and blade are solid with no movement. Blade length is 19.5 inches (24 inches overall).
PRICE: £795.00
FOR MORE IMAGES PLEASE CLICK HERE
GOT ANY QUESTIONS?
PLEASE FEEL FREE TO E-MAIL ME AT: [email protected]
FULL COLOUR SWORD BOOKS FOR COLLECTORS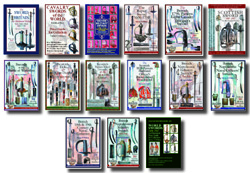 Click on image for more details.